Your DNA determines a lot more than the color of your eyes and hair. From a DNA test, you can discover how your genetics may influence your weight, sleep quality, and more. With a saliva sample, you can learn about your genetic health risks, carrier status, traits, and ancestry—and factor that information into your lifestyle choices.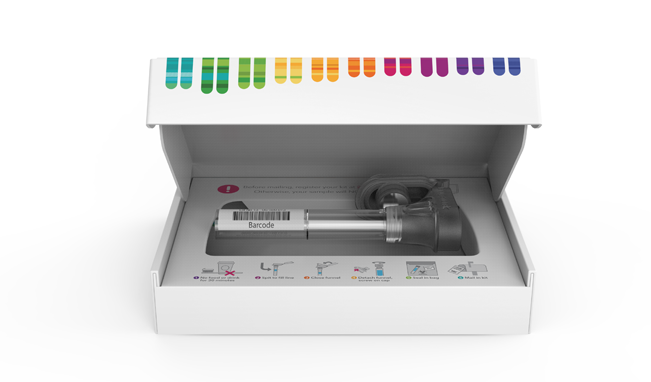 All U.S. employees may order no-cost test kits through the 23 and Me Health + Ancestry Service.
This service is offered as part of the Live Well Program, which reflects Lam's commitment to a culture of well-being that empowers you to lead a healthy lifestyle.
What You Need to Know
The 23andMe Health + Ancestry Service is available at no cost to all U.S. employees and interns.
You may order a free test kit to be sent to your home.
You'll receive your reports through your password-protected account at 23andMe.
In addition to your reports, you'll have access to tutorials and other online resources from 23andMe.
Additional reports will be made available as discoveries are made, and as 23andMe is authorized to report the information to consumers.
You can choose whether to view Genetic Health Risk and Carrier Status reports.
If you'd like, you may opt in to participate in research using your DNA and other information you provide.
Lam has no access to your genetic information and receives no individual or aggregated information from 23andMe.
23andMe is solely responsible for the quality and accuracy of its services and products.
There is a limit of two no-cost 23andMe Health + Ancestry Service kits per employee. You may order one for yourself and one for your spouse or another dependent.
Last Call

You have until March 31, 2021, to order a free test kit.
What You Need to Do
If you want to take advantage of this optional benefit:
Visit the 23andMe page on The Point to access the unique Lam employee link to 23andMe. To qualify for the free service, you must access 23andMe from the Lam network.
To qualify for the free service, create a 23andMe account using your Lam email address. (You can change your email later, if you want.)
Order your free test kit to be sent to your home.
Send your saliva sample to 23andMe in the prepaid package.
Review your personalized reports and educational materials online.
Talk with your doctor before making lifestyle changes.