Lam offers robust benefits to meet your unique needs and those of your spouse or partner and children.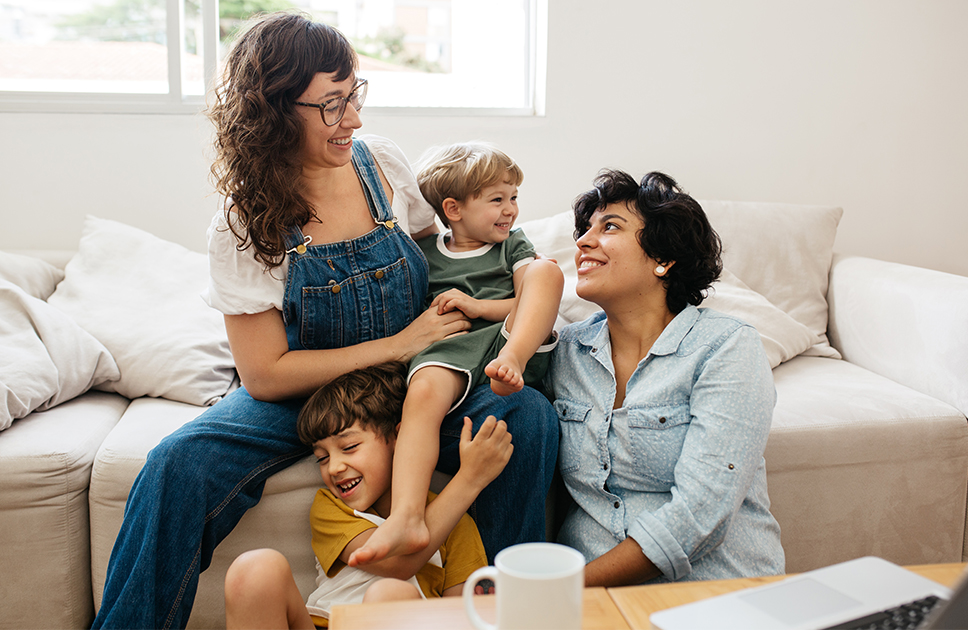 Best place to work

Since 2020, Lam has scored 100% each year on the Human Rights Campaign Foundation's Corporate Equality Index for Best Places to Work for LGBTQ+ Equality.
The care you need
Coverage for your whole family
Lam medical, dental, and vision plans allow you to cover your domestic partner and your domestic partner's children. Each provides preventive care, including regular checkups and screenings, so the whole family can stay well.
As a new hire or during Open Enrollment, you can also purchase additional insurance for your spouse or domestic partner and their children, including:
For details about any of these plans, use the hyperlinks above to visit individual pages.
Virtual physical therapy
Access customized support for muscle, bone, and joint health without leaving home. Virtual physical therapy is available through Sword Health at no cost to you and eligible family members enrolled in a Lam medical plan.
And through Bloom—part of Sword Health—women (and anyone with vaginal anatomy, regardless of gender identity) can receive no-cost, home-based help for pelvic discomfort, urinary leakage, pain with intimacy, or bowel issues.
To learn more about Sword Health and Bloom services, visit the virtual physical therapy page.
Employee assistance program (EAP)
The EAP offers you and your family members up to seven free professional counseling sessions, plus access to other resources that bolster mental health, support day-to-day needs, and help you manage the ups and downs of life. 
To learn more about how the EAP can support you, visit the EAP page.
Starting or growing your family
There are many different family-building journeys, and Lam wants to support yours. It doesn't matter if you're married, single, LGBTQIA2+, female, or male; however you identify yourself and your idea of family, these programs are available to you.
Fertility support
Anthem members can access family planning guidance, education, and referrals to specialists and services, including fertility preservation, at no cost through WINFertility. Learn more about WINfertility support.
The Anthem and Kaiser medical plans also cover treatment for infertility and assisted reproductive technology. For details, visit the plan documents page.
Adoption reimbursement
Lam will reimburse up to $10,000 per child for adoption-related expenses. For details, visit the adoption reimbursement page.
Parental leave
Parental bonding leave provides all new parents 16 weeks off with 100% salary replacement through your short-term disability insurance.
Between pregnancy disability time and 16 weeks of parental bonding time, most new moms at Lam are eligible for 26 weeks of paid leave—and more if your doctor certifies the need. For more information, visit the leaves of absence page.
More support
From backup care to support for children with special needs, Lam offers even more help for parents. Visit the new and expecting parents page.
Gender-affirming benefits
Gender transition services are covered for Anthem members who have been diagnosed with gender identity disorder or gender dysphoria by a doctor. You must receive prior authorization for these services to be covered by Anthem. For details, visit the plan documents page.
Based on medical necessity for the treatment of gender dysphoria, Kaiser plans cover gender-affirming surgery, mental health therapy, hormone therapy, and other related services. To learn what's covered by your plan, contact Kaiser.
Legal assistance
Enroll in the ARAG group legal plan as a new hire or during Open Enrollment for support with your legal needs.
A network attorney can help with adoption, guardianship, surrogacy, and other family matters. You can also get support to complete a will or set up a trust to provide for your family—which can be especially important if state law does not recognize your domestic partner's legal standing. For details, visit the group legal page.
Additional resources
These web pages from Kaiser Permanente and Care.com provide helpful information for everyone:
These materials are for Anthem and Kaiser members: